Whenever a UUR report is logged to WATS, it will show up in this list. By default, the most recent report is at top of the list.
Filter
The article Using the report filter describes report filter in details. Use the filter options to narrow your search, and click Apply filter to run the report.

Repair reports grid
After applying the report filter the grid will be populated with repair reports (UURs) matching your filter. Click the magnifying glass icon

in the grid to view a UUR report.

Pie chart summary
The repair report also have a set of pie charts, displaying top 10 most seen values from a selection of the grid columns. Use the Chart options pop-up to select which properties to display.



UUR Report
By the magnifying glass icon

in the grid, you can view the UUR report. The report consists of a report menu, report header and the step list showing all sequences, steps and measurements of the test sequence.

Report Header
In the header you will find information regarding the serial number, part number and revision, as well as the date and time, execution time and operator.
By clicking the serial number you can access the full serial number history for this unit. Expandable header section are dedicated to station data, sub units and misc.info. Sub units are displayed as links taking you to the serial number history of the sub unit.

Referenced UUT (link)
Clicking this link will take you to the referenced UUT report, where you can inspect the failed step causing this repair in detail.
Failure List
In the bottom of the report you can see a list of failures with component reference, category repair code, the name of the failed step a comment and attachments.

Report Menu
The report menu in the top right hand corner provides a drop down for selecting number format. Icons (+/-) lets you quickly expand or collapse all steps of the failure list and a menu button provides a pop-up with more tools and option.

Edit report
Clicking this button will show a pop-up asking for confirmation to open the report for editing in the Operator Interface.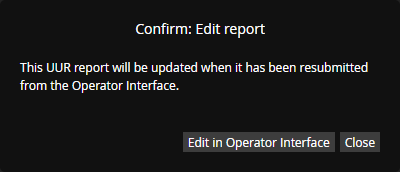 NOTE: You must be granted access to Configure/Settings > Update UUR Report by the Administrator (Roles & Permissions)
Export WSFX
Lets you export the report as a WSFX (WATS Standard XML Format) file.
Export Attachments
This option lets you export download all attached files as a ZIP-archive.