| | |
| --- | --- |
| WATS Cloud Availability - User Level: | Manager |
Introduction
Access-tokens can be created and modified in the Tokens section in the Control Panel->Users & account menu. Tokens are used to provide the user a way to distribute login tokens that can be used to access WATS public API, grant a temporary access to a consultant etc.

User guide:
New token
Opens the token creation / modification menu. Token definition settings determines the tokens availability settings such as level and product group restriction. Token lifecycle settings determines how long the token should be valid.
Please note that role is only available for on-prem customers.

When a token has been saved, a pop-up containing the token value will pop up.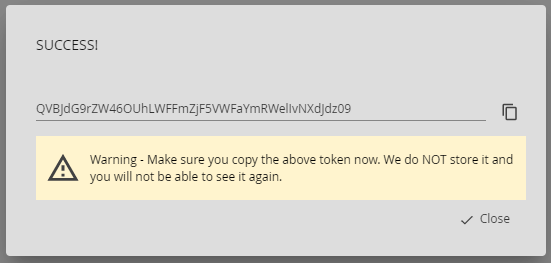 Edit
Opens up the token creation / modification menu and allow the user to edit an already existing token. The menu can be opened by either double-clicking the token in the grid or select the token in the grid and click the edit button.
Delete
Deletes a token. Request made by the deleted token will no longer be accepted. The token can be deleted by selection a token and either click the delete button or press the delete key on your keyboard.
Regenerate
Generates a new token key value. Requests made with the pervious token key value will no longer be accepted. This should be used if a token value is forgotten or if you would like to re-use a token (i.e consultant token).
New "register client"
For remote installations of clients, you should not distribute your Username and Password.
Register client creates a new token that can only be used to register clients into WATS. This token is usually used to grant someone access to create new clients in a production environment.