The WATS app supports scanning barcodes and QR codes. Scanning requires permission to use the camera.
To start scanning, select 'Scan' from the tab menu. After scanning, you will be taken to Serial number history, with what you scanned entered in the filter. How the filter is filled in depends on the barcode identifiers your WATS is configured with.
Alternatively, in the filter of one of the Reporting sub-sections, press the icon next to the Serial number field to start scanning.
Press the settings icon to open the scanning options menu. Here you can enable:
Inverted scan, will scan barcodes with inverted colors.
Try harder, scan will spend more time analyzing each frame.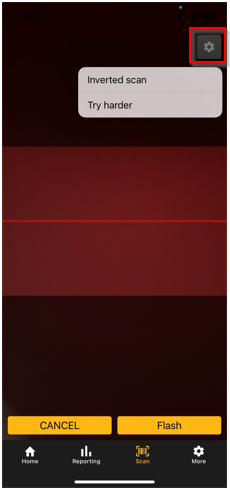 Scanning supports these formats:
UPC-A
UPC-E
EAN-8
EAN-13
Code 39
Code 93
Code 128
ITF
Codabar
MSI
RSS-14 (all variants)
QR Code
Data Matrix
Aztec
PDF-417