WATS comes pre-populated with some common Test Operation Types, but you are free to disable these and use your own. These are the same Test Operation parameters that are available in the reporting filters.
From the login screen or the upper left menu icon, select Control Panel > Process & Production > Processes.
Click New Process (+) to create a new process.
To deactivate a process not in use, simply remove the Active checkmark.
The Code column are the identifier of the process, when uploading a test report you can either assign it to this code, or to the operation name. When adding new processes you select if it is a test operation, Work-In-Progress, or repair operation. You can also assign a relative process index indicating when in the manufacturing process they occur. This index is used to calculate Rolled Throughput Yield and for Unit Verification.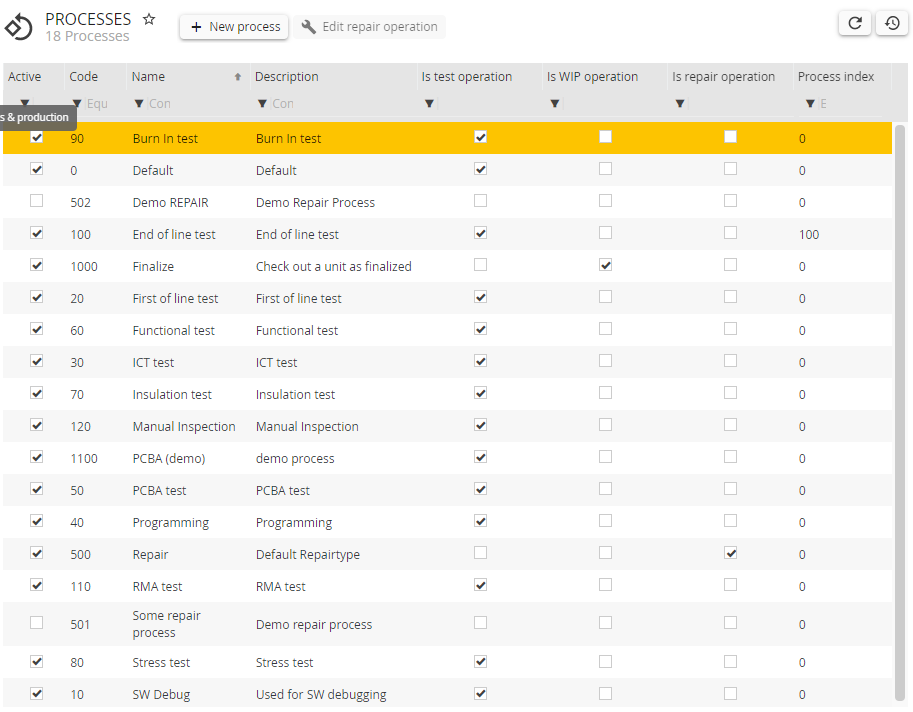 Repair Operations
For repair operations, this is also where you define the repair categories and codes. Select the applicable repair process, and select Edit Repair Operation. We recommend using multiple repair operations to distinguish between operations such as in-line repair, RMA etc.
Reference the in-product documentation or Repair Interface Webcast for more information on setting up and using the Repair Module