| | |
| --- | --- |
| skyWATS.com Availability - User Level: | Analyzer, Manager |
The GR&R analysis is used to quantify the amount of variation in a measure that comes from the measurement system itself rather than from product or process variations. The analysis uses the ANOVA (analysis of variance) method for computing the repeatability and reproducibility.
The analysis requires multiple parts (units), appraisers (test-station, operator, socket, fixture) and trials. When conducting a study, the recommended procedure is to use 10 parts, 3 appraisers and 2 trials, for a total of 60 measurements.
In the Gage R&R analysis grid you will be able to expand/collapse the rows and select exactly which appraisers or parts you want included in your analysis. Every row will have a type to easily distinguish sequences, appraisers, units and reports from each other. To check what type a row is, simply hover over the icon in the "Type" column.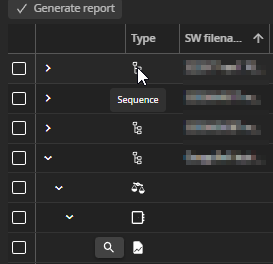 To start the Gage R&R analysis you will first have to select the appraiser / part combinations to include in the analysis. Check the combinations from the hierarchical grid and hit the "Generate report" button in the top left of the grid. (NB. This real world example uses 5 parts, 2 appraisers and 10 trials)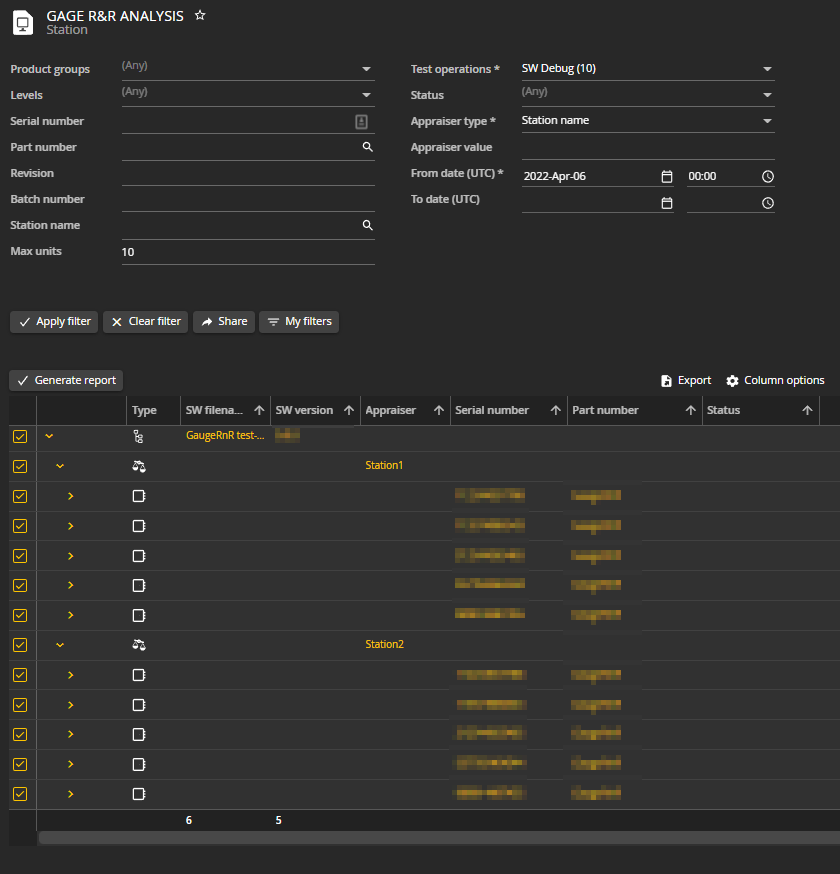 After "Generate report" has been clicked, a new "Step grid" will appear below the main grid, showing some detailed data for each step.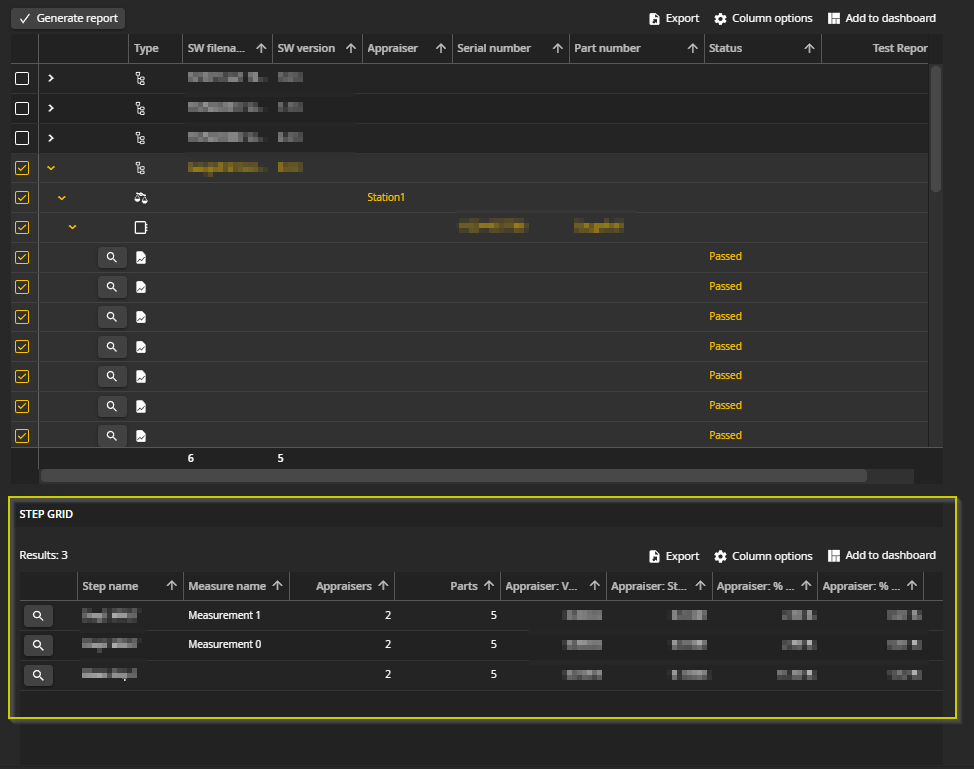 Next is to identify a step of interest and select the step by clicking the icon with the magnifying glass to open a detailed report of the selected step.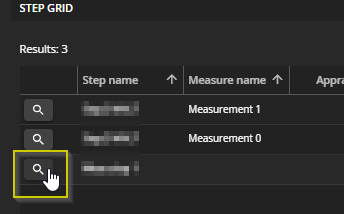 A detailed view will appear, showing detailed information in tables and charts. Here you will also be able to set a new low/high limit and recalculate data based on the new limits.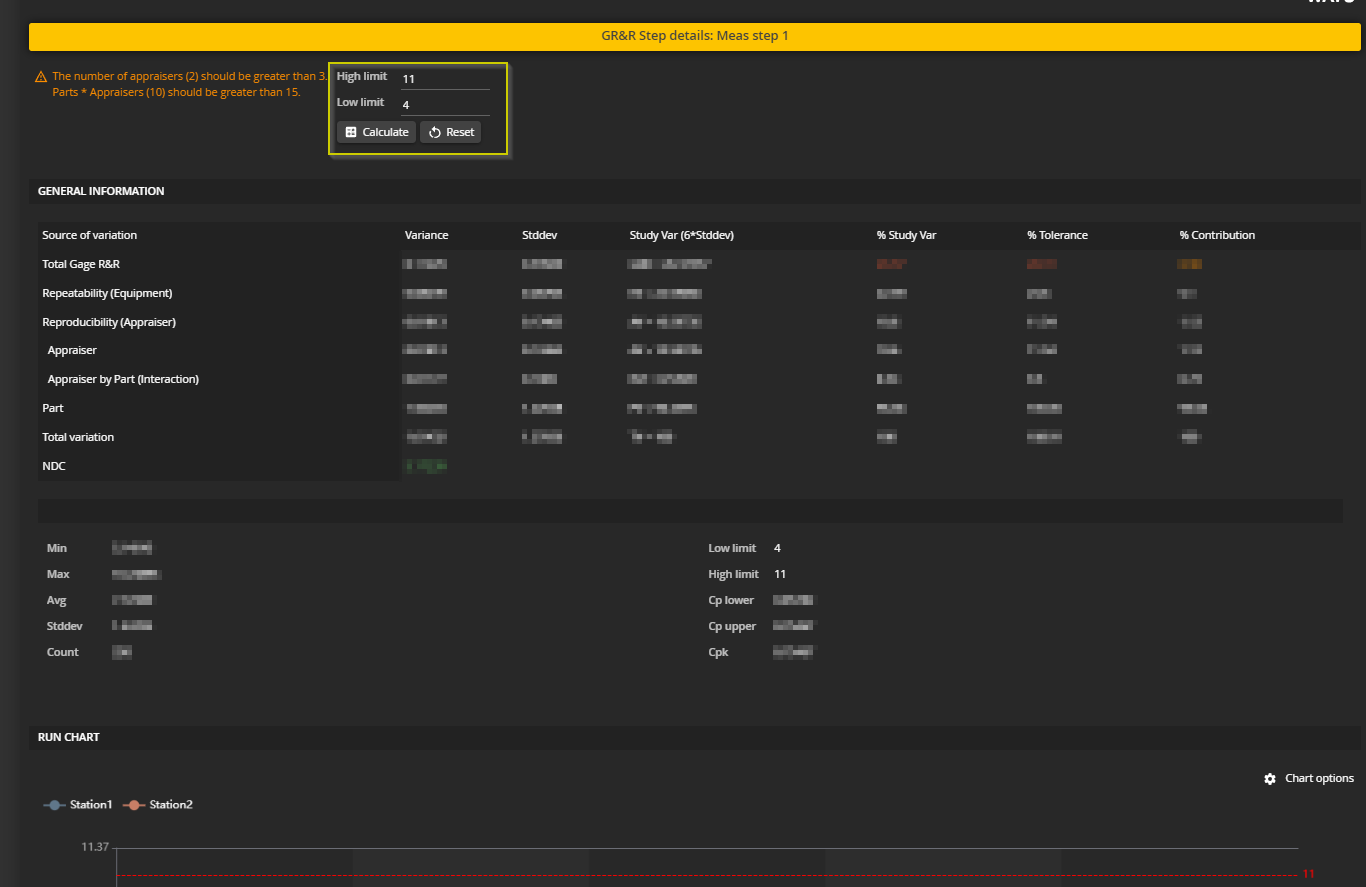 You will see a warning in the top left corner if you have not used enough parts/appraisers/trials when creating the report according to the recommended suggestions mentioned earlier in this article.

All the key values are accompanied with control charts.