| | |
| --- | --- |
| skyWATS.com Availability - User Level: | Analyzer, Manager |
The Total process yield-report displays number of units that passes the last test operation (Process) compared to the total number of units tested.
Unit Verification
The last operation is the operation with the highest process index defined in Product Test Operation that matches part number and revision of a product, either directly or through a product group. For Total Process Yield to work as intended there must be one and only one operation having this highest process index. The columns showing

icon lacks unit verification rules. See the article Unit verification rules for details.

Filter
Please refer to the article; using the report filter for documentation on the report filter in general.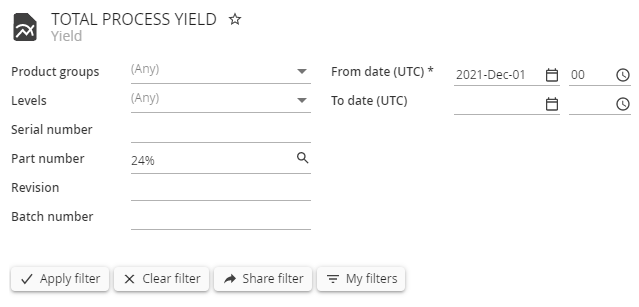 Grid
In this report, the grid will display total process yield aggregated by period and part number. Use the

icon in the period-column to choose period type.

Period Chart
The chart shows yield, number of units started, finalized and finalized in period.