WATS Dashboards supports a Station Map widget, showing your test stations, as well as volume and yield in a world map. It uses GPS coordinates to automatically plot the WATS Clients (stations) and servers on the map, which additionally gives you a graphical indication of their current health status and the number of UUT/UUR reports transferred or received.
The station map comes as both a predefined global dashboard, and as a widget that can be used in your own dashboards.
Use a map provider to be able to zoom (e.g. OpenStreetMap) or select the Local (statical) view. Click the edit/configure icon for details and setup.
| | |
| --- | --- |
| | NOTE: For the WATS Clients to push the GPS coordinates, they must be enabled at the client. Open the WATS Client Configurator and select Location Services. |
WATS Station Map Dashboard
WATS comes with the predefined global dashboard Station Map. The dashboard consists of the Station Map widget and widgets showing yield and test status. This dashboard can be cloned or edited to your needs.
WATS Station Map Widget
To use the Station Map widget, add it to your dashboard using the Widget Toolbox > Add > Station Map. Once the widget is placed, use Widget Toolbox > Edit to edit the settings and filters for the widget.
Widget settings
In the widget settings, you ca show or hide the widget title, select from different map-layouts and show or hide different data for your locations.
Click Save to apply your changes.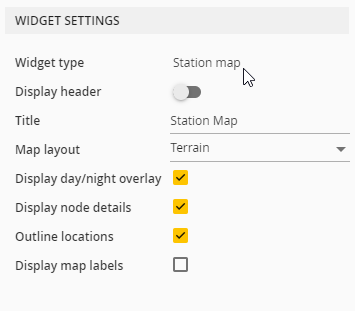 Location nodes
Each location will display nodes with information about each location.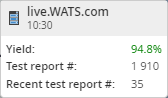 | | |
| --- | --- |
| | NOTE: When a client is displayed on the map, you can customize the location of its label by placing the mouse cursor above it while you drag it (hold left mouse button) to the desired location. You'll see a line that connects the label with the point of the GPS coordinate. |