NOTE: You cannot edit Roles & Permission on Basic, Analytics or Legacy cloud plans.
USERS & ACCOUNT
The Roles & Permission section allow you to create or edit different User roles and grant/deny access to functionality in WATS. By default there are predefined roles. The predefined roles will appear with a lock icon to the right side of their names and can not have their names edited or deleted. The predefined roles can however have their permissions changed in the right-hand list if the user currently logged in have the permission to edit permissions.

If a selected role's permissions can't be edited, there will be a warning icon on the top of the list.

The "Administrator" role will always be read only and cannot have its name or permissions changed.
All parent permissions will have an arrow on the left-hand side of the permission names which can be clicked, indicating if the permission will expand to show sub-levels or collapse to hide sub-levels of the permission.

Activating/deactivating a top-level permission will activate/deactivate all sub-level permissions.
A top-level permission can be active without having sub-level permissions active.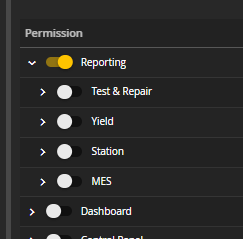 See the help file for details (click Help in the upper right corner in the Control Panel)
Goto Users to connect a User to a Role.