To create a new workflow definition, enter the WATS Control Panel and navigate to the Workflow Manager from the menu.
Once the UI has loaded, click "New workflow" from the ribbon, and a new definition will appear in the selected/active folder. Then select it from the list (single click).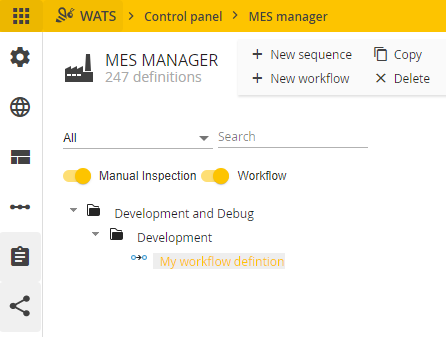 Workflows are created as Draft, and can be moved to Pending and Released. They can also be revoked (automatically done when new version is released).
Actions:
| | |
| --- | --- |
| New workflow: | Create a new workflow in the selected folder. |
| Copy: | Create a copy of the selected workflow. Rename with double click. |
| Delete: | Delete selected workflow definition. |
| Design: | Start the workflow designer to design the selected workflow. |
| New folder: | Creates a sub folder of the selected folder. |
| Delete folder: | Deletes the selected folder. |
| Move to..: | Change workflow status. |
When a definition is selected, its product/production relations will display in the right pane. This is also where you define which phases of a unit that the workflow should respond to (e.g. Under Production).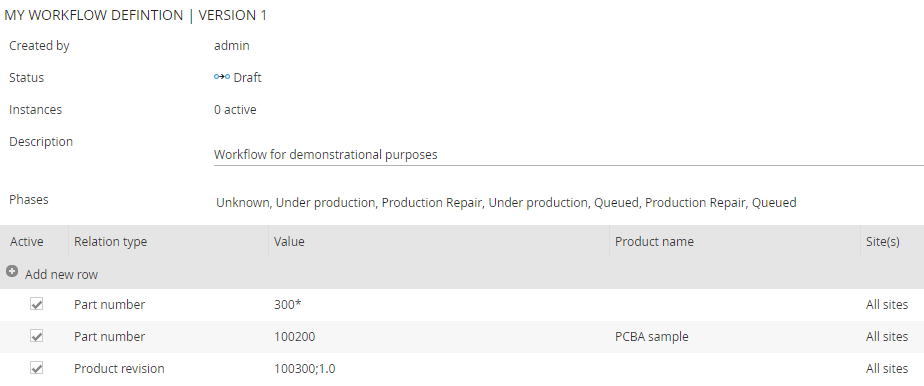 To design the workflow, click "Design" from the ribbon. This will launch the Workflow Designer. The WWF (WATS Workflow) designer needs to be installed locally by using the link to the MSI package (Install Designer link appears in pop-up window after clicking "Design").